Nigeria has been ranked as the leading country in terms of Bitcoin and cryptocurrency adoption by the world's largest cryptocurrency exchange, Binance in its latest release.
This was shown in a recent survey that revealed that one out of three Nigerians have been involved with Crypto at a time or the other. This made the country ranked as the leading country per capita.
However, the survey showed about 300 million people all over the world have been involved in cryptocurrencies either by ownership or usage. Nigeria with a population of over 200 million people, the Peer-to-peer trading of cryptocurrencies has led the younger part of the country to be involved with cryptos, thereby making the country rank 1st globally according to Binance's data.
Vietnam was ranked second globally owing to the huge demand in cryptocurrencies and high volume on P2P trading among others. Philippines and Turkey were the third and fourth respectively in crypto adoption. Latin American country, Peru was ranked fifth for crypto adoption in the world despite being the most proactive when it comes to Crypto in that area.
Binance noted that the ranking was based on data from statistica and selected countries were those that used cryptos last year, 2020. The release also noted that the adoption in 2021 so far has been impressive. We've seen general adoption, institutional adoption among others.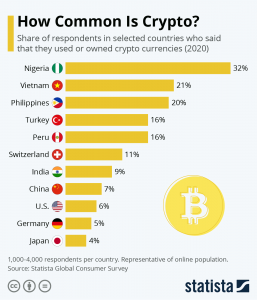 However, the exchange noted that there's still more to do with over 300 million users of crypto out of over 7 billion people of the world. It claimed crypto will be the most used technology when it hits the user base of Facebook and Google;
"Once crypto hits 50% usage around the world (2.55 billion people between 15 and 65 years old), it will become one of the widest-used technologies in the world. For context, Google has nearly 4 billion users, while Facebook has almost 3 billion users